Beauty & Self
Books & Music
Career
Computers
Education
Family
Food & Wine
Health & Fitness
Hobbies & Crafts
Home & Garden
Money
News & Politics
Relationships
Religion & Spirituality
Sports
Travel & Culture
TV & Movies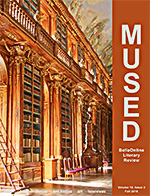 The autumn equinox, that balance point of light and dark, is closely tied to the moon. In China the Moon Festival happens around the autumn equinox, celebrating gratitude and the warmth of good friends and family. This year it was Sept 15th. Our last eclipse of 2016 was a penumbral lunar eclipse on Sept 16th. It fell in conjunction with the full harvest moon, also a symbol of thankfulness and appreciating those who care about you. The autumn equinox is a perfect time to add to those celebrations. It's a wonderful moment to treasure all we have and to share warmth with those who support us.

Autumn Equinox 2016 issue of Mused

Fighting Pigging Out
Geriatrics - Patricia Villani, MPA, PhD, Editor

Over-indulging at holiday time isn't the healthiest thing we can do. This article provides some ideas to enjoy all of the delicious options at our holiday tables while helping us avoid stuffing ourselves, being uncomfortable, and cancelling out all of our best efforts to lose weight.




Ethnic Beauty, Your Skin Your Way
Ethnic Beauty - Juliette Samuel, Editor

We all know that a good way to help your complexion reach its gorgeous, glowing potential is with a good skin care regimen, specifically for your beautiful ethnic skin. How to you do that? Read on to learn more.




Simple Dainty Edging Beginners
Tatting - Georgia Seitz, Editor

A Simple Dainty Edging for Beginners. This edging appeared in the Coats & Clark Booklet #159, "Priscilla Edgings for all purposes," and is used as a teaching tool with their permission.




Berbere Seasoning Ideas
Sandwiches - Connie Mistler Davidson, Editor

In my kitchen, except for salt, truffle salt, pepper, and Lawry's Seasoned Salt, Berbere Seasoning is my favorite seasoning. It doesn't just add heat to whatever you sprinkle it over, it adds a delicious and delicate flavor. Here are some ways to use Berbere Seasoning.




The Evergreen Club Experience
Senior Travel - Hazel M. Freeman, Editor

The Evergreen Club is a membership only club for those 50 and older. A $75.00 annual membership fee will save you hundreds on your first trip. Members have access to hundreds of B & B homestay locations across the country for overnight lodging, with breakfast, for about $15.00 a night.




The Woman at the Well a Divine Appointment
Christian Living - Lynne Chapman, Editor

When you meet a stranger, what is your first impression? Our Lord doesn't look at people they way we do - the outward appearance. He sees deep into the heart.


| Google+ |
E D I T O R R E C O M M E N D E D
The Eye of Adoption


Jody Cantrell Dyer´s down-to-earth, honest account of her experiences with infertility and the adoption process will have you laughing and crying. Perfect for anyone interested in learning more about adoption!
Christian Living Site Shop


Find book reviews of Christian Books both fiction and non-fiction. Read my experience in purchasing a Bible Book Cover.
The Weiser Field Guide to Cryptozoology


The Weiser Field Guide to Cryptozoology by Deena West Budd includes information, interviews, and stories about forty different cryptids seen in various places all over the world by credible eyewitnesses like policemen, rangers, and doctors. Readers will learn where and how to find flying humanoids, hairy humanoids, giants of all kinds including rabbits, bats and spiders, goblins, and vampires.