Beauty & Self
Books & Music
Career
Computers
Education
Family
Food & Wine
Health & Fitness
Hobbies & Crafts
Home & Garden
Money
News & Politics
Relationships
Religion & Spirituality
Sports
Travel & Culture
TV & Movies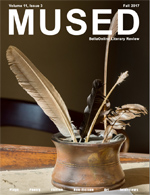 Autumn is a season for counting our blessings. For realizing just how much we have in life where so many others are without. It can often be easy to take things for granted. Things which millions of people desperately dream of having. By pausing for a moment, and looking around with mindfulness, we can find a new center. Begin with fresh energy.

Enjoy the Mused Autumn Equinox 2017 Issue



How to Reduce Clutter for Stress Relief
Natural Living - Katherine Tsoukalas, Editor

Learn how to reduce clutter so that you can relieve stress.




All These Perfect Strangers Book Review
Suspense / Thriller Books - Karen Hancock, Editor

Penelope Sheppard has received a scholarship at a prestigious college in Australia. Death seems to follow her around, and three of her fellow students are murdered. There is much suspense in this psychological thriller.




Folklore - Ballads
Folklore and Mythology - Ky Greene, Editor

Ballads are stories set to song, and they have been a part of Folklore since the Middle Ages. While ballads originated with wandering minstrels, the introduction of the printing press caused them to slowly dwindle. Some folk ballads remain today -especially in the mountains - but there has been a tu




30 Tat. Designs 2" Beveled Glass - Carolyn Craig
Tatting - Georgia Seitz, Editor

Carolyn Craigs "30 Tatted Designs for 2 inch Beveled Glass" book review.




Ozark
Prime Time TV - Maria Brown, Editor

From the increasingly popular original content creator, Netflix, comes a new drama staring Jason Bateman as financial planner, Marty Byrde who relocates his family to the Ozarks in an effort to launder money for a Mexican drug cartel.




Carrot Halwa Recipe
Indian Food - Sadhana Ginde, Editor

Hmm, carrots for dessert? Really?!? Only in India :-) My easy to prepare Carrot Halwa is a delicious & beloved dessert enjoyed throughout the country. This traditional dessert may sound strange, but trust me - one heavenly little bite, and you will be hooked for sure - so try it soon!


| Google+ |
E D I T O R R E C O M M E N D E D
Ni Hao, Kai- Lan: Super Special Days DVD


This Ni hao, Kai- Lan DVD: super Special Days is great for preschoolers who are fans of the show, or for preschoolers who need help identifying and managing negative emotions.
Stranger Safety Video


From Julie Clark, the mom and creator of the Baby Einstein series stars as the super energetic safe side chick in her highly entertaining, yet kid-sized educational video to teach children about strangers. Julie Clark, along with John Walsh the host of Americas Most Wanted Show have created a video packed with sound advice on Stranger Safety for kids age 2-10.
Christian Living Site Shop


Find book reviews of Christian Books both fiction and non-fiction. Read my experience in purchasing a Bible Book Cover.