Beauty & Self
Books & Music
Career
Computers
Education
Family
Food & Wine
Health & Fitness
Hobbies & Crafts
Home & Garden
Money
News & Politics
Relationships
Religion & Spirituality
Sports
Travel & Culture
TV & Movies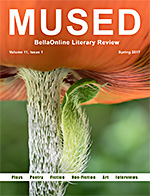 In our modern world of 24-hour diners and around-the-clock email, it sometimes seems as if we've lost track of nature's cycles. But then the Spring Equinox comes along and reminds us to pause. For thousands of years, cultures around the world have recognized this one special day as representing a balance of light and dark. It's a unique moment in time where our world settles in equilibrium – just for a breath. And then the sunlight shines out and pulls us deeper into Spring.

Enjoy the Mused Spring Equinox 2017 Issue



Ultra-cool Dwarf and the Seven Planets
Astronomy - Mona Evans, Editor

When a planet was first discovered around an alien sun in 1995, it was big news. Now we know thousands of them, so it takes something special to get into the news. In February 2017 one team hit the jackpot: a star with seven Earth-sized planets, three of them in the habitable zone.




Kong Skull Island Movie Review
Action Movies - Dianne Walker, Editor

His job was to protect the island and control the creatures that could threaten the world. He was doing just fine until scientists and the military invaded his world. Kong will stop at nothing to protect Skull Island.




Growing and Planting Rhubarb
Landscaping - Connie Krochmal, Editor

Although rhubarb is botanically a vegetable, the U.S. Customs Court in 1947 declared it to be a fruit since that was how it is used.




Wix Website from Scratch - Grid Gallery
Digital Art and Design - Diane Cipollo, Editor

In this tutorial, we will add a gallery to our Wix website, which we have created from a blank template. Starting from scratch is a great way to learn the basics.




What Stamp Collectors Should Do
Stamps - Gary Eggleston, Editor

Stamp collecting is a very old hobby and is considered to be one of the most popular hobbies in the world. Though there is not that much money that can be made from this hobby unlike collecting coins, some people just do it for the fun of it.




Third Party Coin Grading Services
Coin Collecting - Gary Eggleston, Editor

Coin collecting has been a very popular hobby to many people of all ages. The marketing of coins has expanded widely and because of this wide the market prices of coins has varied immensely.


| Google+ |
E D I T O R R E C O M M E N D E D
True Balance by Sonia Choquette


This terrific guide gives you fun, everyday ideas with which to open and strengthen all seven of your chakra energy-centers, including the third-eye chakra and crown chakra which help you to connect with psychic phenomena and the divine.
From Pain to Parenthood


Follow one womanīs incredible and heartfelt journey from the pain of miscarriages to the joy of becoming a parent through adoption. Filled with honest, raw emotions and helpful coping tips, "From Pain to Parenthood" promises to touch your life with a real story that shows the power of the human spirit and the beauty of a motherīs love.
Itīs An Animalīs Life


Shopping is fun at Itīs An Animalīs Life. When youīre looking for the perfect animal gift, look no further.