Beauty & Self
Books & Music
Career
Computers
Education
Family
Food & Wine
Health & Fitness
Hobbies & Crafts
Home & Garden
Money
News & Politics
Relationships
Religion & Spirituality
Sports
Travel & Culture
TV & Movies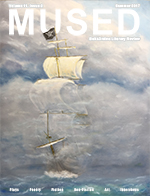 Our time on this Earth is fleeting and precious. We often know that in a vague, intellectual sense, and yet we can find ourselves whittling away those finite minutes without mindful thought. We should celebrate the beauty in a child's smile. The radiant sound of saying "I love you" to that special person. The warm touch of a hand. The delicate scent of a wildflower.

Enjoy the Mused Summer Solstice 2017 Issue



I am Four Movie Review
Action Movies - Dianne Walker, Editor

Itís tough always being the new kid on the block, but when itís the difference between life or death, thatís a different twistÖespecially when youíre a Mogadorian. Number 4 is on the run with his guardian Henri when they wind up in, of all places, Paradise, Ohio.




Halden Prison
Crime - Vance R. Rowe, Editor

Halden prison in Norway is known as the most humane prison in the world. Read my article to find out why.




25 Benefits of Reading
Reading - Connie Mistler Davidson, Editor

If we are readers, we read books constantly. Even if we are not readers, we read, constantly. Directions, signs, pamphlets, work product, labels, textbooks, novels, and reviews all count as reading. Why should you read? What are the benefits of reading? Here are 25 of them, in no particular order.




Cleaning Your Sinks
Cleaning - Tammy Judd, Editor

Getting your sinks clean will help make your entire house feel clean.




Dark Houses Book Review
Suspense / Thriller Books - Karen Hancock, Editor

The murdered body of a young girl is discovered in an empty house, and DI Stephen Greco and his team must investigate and find the perpetrator before more of the same occurs. However, DI Greco has personal problems of his own to solve, and his personal relationships may be at risk.




Alphabet L - Z Anna Valeire Book 3
Tatting - Georgia Seitz, Editor

The Tatted Alphabet by Anna Valeire Book 3 pg. 15. Tatted initials are handy for many projects. And added flower or decorative picots are just fine, too.


| Google+ |
E D I T O R R E C O M M E N D E D
The Weiser Field Guide to Cryptozoology


The Weiser Field Guide to Cryptozoology by Deena West Budd includes information, interviews, and stories about forty different cryptids seen in various places all over the world by credible eyewitnesses like policemen, rangers, and doctors. Readers will learn where and how to find flying humanoids, hairy humanoids, giants of all kinds including rabbits, bats and spiders, goblins, and vampires.
Paradise in Plain Sight


Paradise in Plain Sight: Lessons from a Zen Garden by Zen Priest Karen Maezen Miller, is both memoir and Zen guide. Maezen Miller shares experiences repairing and tending a historical Japanese garden in her own backyard, guiding the reader towards direct insight. It is beautifully written, honest, and relevant to the modern seeker of any faith.
Turn On Your Inner Light by Debbie Mandel


This entertaining book offers easy to implement stress-management tools for 29 common life situations: techniques, visualizations and a fitness workout to get you off the couch. Take back your power and live more energetically. Donít vent - reinvent!